Educational Programs

The REAL TREES 4 Kids! project provides free curriculum for schools. This program is sponsored by the National Christmas Tree Association, the project's goal is to teach school-aged students the ins and outs of Christmas Tree production. Check it out at: realtrees4kids.org
Numerous New Hampshire farms have their own education programs. One New Hampshire farm won a national award for most outstanding Children's farm tour program. The Forevergreen Program developed at the Rocks Christmas Tree Farm is shown below.

Adopt a Forevergreen Tree
When a school starts the Forevergreen Program for the first time, the kindergarten students of that year can plant their own trees and watch them grow year by year up to the sixth grade. How do the students who did not get the chance to start the curriculum in kindergarten get into the program?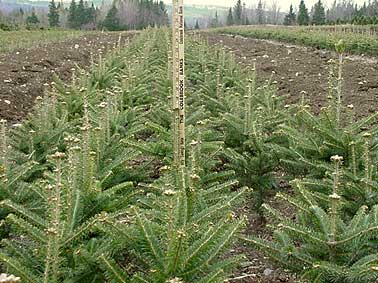 All students can become part of the program by adopting trees of the right age for them to be able to harvest when they are in sixth grade.
Choose twice as many trees for the students to adopt as you intend to donate to the school (we plant 24 trees knowing that 12 will be donated to the school). This will make sure that you will have enough trees to give to them even if some die. Construct and erect signs which say that the trees have been adopted and when they are going to be cut.
Example Program
FOREVERGREEN PROGRAM SECOND GRADE ADOPTS 24 TREES
IN SPRING 1995 HARVEST CLASS OF 2001
(Place at the beginning of the row of adopted trees.)
THIS ENDS THE TREES ADOPTED BY THE CLASS OF 2001
(Place at the end of the row of adopted trees)
Explain to the students that this will help them find their trees each year and it will prevent farm staff from cutting or managing them by mistake.
If possible set the area for planting and adopting trees where the students can visit them at any time, even when you are not there. we get students, particularly younger ones, who bring their whole family to see their trees.